We're a Contracting Company Serving East Central Indiana
For more than 20 years, local homeowners and businesses have been trusting Ace Construction & Remodeling as their Contracting Company to meet all their construction needs. We are a family owned and family managed business. At Ace Construction & Remodeling, we take great pride in the high quality of our work. We pledge to provide all of our clients with top-notch craftsmanship and personalized customer care.
When you hire us to complete your construction project, you can rest easy knowing that you're working with a professional contracting company who put your needs first. And as a local East Central Indiana company, you'll have peace of mind knowing that we're available to help whenever you need us. We understand how the service we provide is so important to your family. Since we are a family owned and ran business, we understand the importance of family and do not take this lightly.
We offer a wide range of contracting services – everything from roofing, gutters and siding to kitchen remodeling, bathroom renovations and room additions. Whatever project you have in mind, our home remodeling experts have the skills and expertise to get the job done right.
If you'd like to talk to us about your contracting needs, feel free to call us at 877-644-6030 or use the contact form on our site. We gladly provide free estimates to all interested parties.
How Our East Central Indiana Contracting Company Began
Our contracting company was founded in 1996 by Joe Dargo and Todd Rench.
Our co-owners first met in high school when Joe's mother married Todd's father, making them step-brothers.
Joe and Todd both got their start in the construction industry at an early age, soon after graduating from high school. They honed their skills for several years while working for various contractors before taking the leap and starting their own contracting company together.
That's how Ace Construction & Remodeling got started. Since then, our team has successfully completed more than 3,000 jobs in East Central Indiana. We've continued to perfect our craft by receiving additional, in-depth training in siding, kitchen, bath, room additions, insulation and painting. We're also proud of our status as Owens Corning preferred contractors, which is seen in the industry as a true mark of excellence.
Services Provided by Our Contracting Company
Ace Construction & Remodeling offers a broad range of services, such as:
Residential Roofing Installation – If the roof of your East Central Indiana home is past its prime and you need a replacement, we would be happy to provide a free quote and recommend the best residential roofing options to meet your needs.

Residential Roofing Maintenance & Repair – With your busy lifestyle, it can be easy to forget about routine roofing maintenance and repair. Let our roofing professionals take care of your roof so you can keep your focus on other priorities.

Gutters – No roof is complete without the proper drainage system. We can install new gutters to help direct water off of your roof and away from your foundation to better protect your home and prevent damage.  

Room Additions – If you love your home and don't want to move but need more space, room additions are the best way to go. Let our team of remodeling professionals build the bedroom, family room, dining room, or nursery your family needs.

Patio & Deck Construction – Every home deserves a stylish outdoor living space to enjoy. If you've been looking for an outdoor upgrade, then call Ace Construction & Remodeling – we can design and construct the patio or deck of your dreams.

Interior & Exterior Painting – To breathe a little life into your East Central Indiana home without breaking the bank, hire our contracting company to apply a fresh coat of paint. You'll be amazed at the difference such a small change can make!

Kitchen Remodeling – If your cramped and dated kitchen isn't meeting the needs of your family, just give us a call. We'd love to help you create a kitchen you and your family can enjoy for many years to come!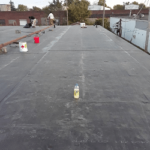 COMMERCIAL Roofing:  Maintenance, Repair & Installation
Not only do we provide roofing services for home owners in the various cities in the East Central Indiana region, we also have the experience that is necessary to provide commercial roofing services to area business owners.
These are a few of the services our contracting company provides. Whatever type of project you have in mind, contact us at 877-644-6030 to talk about the details.
Ace Construction & Remodeling hopes to earn your business and become the only contracting company you call whenever your home needs help.
DON'T PUT IT OFF – REQUEST A QUOTE TODAY FROM ACE CONSTRUCTION